The pandemic was raging, I looked at my computer screen and said fuck it, I am booking this trip. Ten months later, the pandemic still going strong and not much recent joy to speak of was the topic of conversation in our group chat that consists of me, my wife, my best friend and his girlfriend, AKA the 4BFFL or the Disney Squad as I lovingly refer to us. We decided that we needed some fun, we'd be safe and keep our trip, we geared up and headed south, to my favorite state in the union, Florida, USA all the way. We weren't just heading to Florida we were heading to the happiest place on earth for the second year in a row, yes, Walt Disney World.

I am a 28 year old man, I still view myself as a kid with a ton of life ahead of me but in reality I am approaching thirty, I am married, have a real job, a house, a car payment, bills coming out of my ass, I have a lot of responsibility. With saying all that, my favorite place on earth is Walt Disney World, I don't care what you think about me, it is hands down my place where I can relax and smile non-stop and leave the bullshit of everyday life in the rearview mirror. Frankly, if you don't like Disney World, then I think you have a giant steaming dump in your pants. Myself and my best friend Stevie Ray absolutely love Disney, my beautiful bride and his lovely girlfriend, they tolerate it and while I think they have a good time, they are there for us, that means a lot. In my view, I have made sacrifices to have the privilege of going to WDW the last two years. First off, I pick up the entire bill, my wife doesn't have to lift a finger towards her wallet, it's on me, a present to her. Secondly, we live near her family and I re-located to put a smile on her face, albeit, I like it here, I would choose to live in Florida if I had my choice, nevertheless, I feel like that decision has allowed me to choose the vacations. Whether that be right or wrong, I don't know but I have rationalized it that way and again, I am miserable about 98.7% out of the year and when I am in WDW I am thrilled and happy, if we don't go, 100% miserableness, even golfing wouldn't brighten my spirits if Disney was not an option.

Obviously, a lot of what I am saying is schtick, I am so fortunate and overall, a happy guy but there is nothing like Disney World and being able to share it with my wife, my best friend and his girlfriend who has become a best friend and our family, the experience is heightened to an all time level of fun. It's crazy to think that the pictures, videos and memories the four of us have will be what we look back on, show our kids and remember as the "good ol days", that's special.

Let's start with my favorite thing about Walt Disney World, the food. It's amazing, any type of cuisine you want, any style of restaurant, various price points, entrees, appetizers, snacks, desserts, it is all there for the taking. We had many exquisite meals, but I will say that the meal we had at Shula's Steakhouse in Disney's Dolphin Hotel was probably my favorite. We started with the colossal shrimp cocktail, Tuna Tar Tar, French Onion Soup and sourdough bread and butter. Following that, I had the 14 oz. New York Strip Steak, I am a steak guy and this was hands down the best steak of my lifetime. We all had various steaks and then we had some espresso and a piece of cake, the girls drank and the total bill was around $600 with tip, it was a big price but in my opinion, very worth it.


I strongly recommend going to EPCOT when there is some sort of festival occurring, which now-a-days is more often than not. We were there for the EPCOT Festival of the Arts and we ate our way around all the countries and we put on a hell of performance. Every country had various food stands setup with festival food. I felt that the Arancini in the Italian pavilion was the highlight of the day. We ate our dinner at San Angel Inn at the Mexican pavilion and it was way beyond my expectations. The wait staff was AMAZING, the food was top notch, and the ambiance is one of the coolest in all of EPCOT.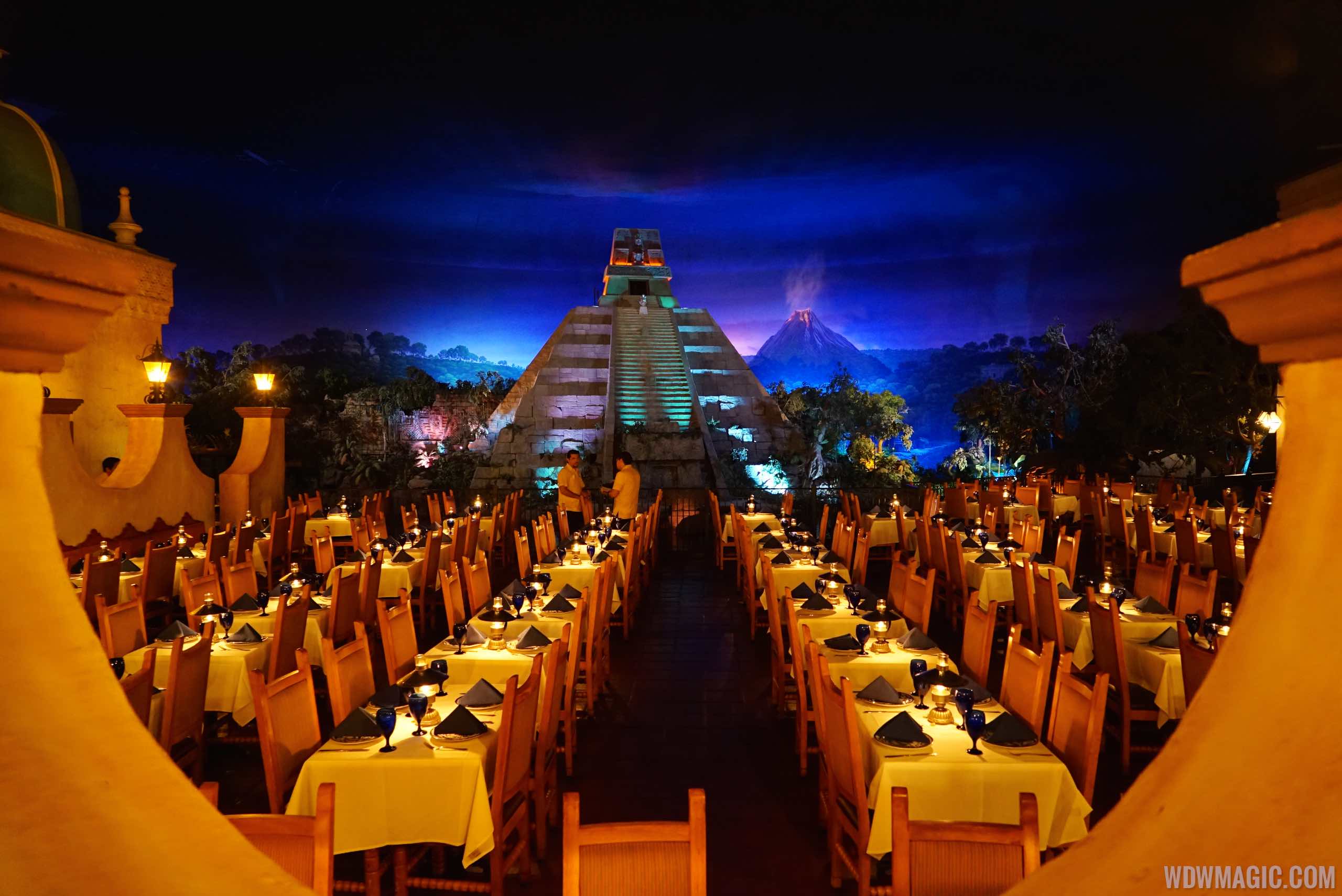 Disney Springs, formerly known as Downtown Disney is an awesome place to walk around by the water and do some shopping and get some great eats. If you are looking for a place to sit down and have a semi-fancy date night, I can't recommend the Boathouse enough. We sat outside by the water and absolutely housed appetizers and a variety of seafood and steaks, I went with the Jumbo Crabcake and again, our service was top of the line and we ate enough for eight people, expensive meal but not to the level of Shula's and there is enough on the menu for everyone and anybody.
Moving onto our hotel accommodations, for the second straight year we stayed at the Caribbean Beach Resort. The rooms are average but they get the job done and the beauty of this resort is that you have access to the Skyliner which brings you straight to EPCOT and Hollywood Studios. Caribbean Beach is considered one of Disney's moderate resorts, it goes for about $320+ a night, my ideal resort is the Yacht Club or Boardwalk Resort because of the walking access to EPCOT and Hollywood and the ability to peruse around the Boardwalk at night, all within walking distance to various restaurants. My plan is to save up and the four of us will stay at one of Disney's deluxe resorts like the aforementioned Yacht/Beach Club or Boardwalk or potentially Animal Kingdom Lodge.
Onto the parks, there was some concern that the magic would leave Disney because of the closed shows, social distancing and lack of evening entertainment, I didn't experience that. I will say, if it is your first time visiting Disney World than maybe wait until things are a little bit more normal and if you have little ones, there are not face to face interactions with characters, so that might be a bummer. If you have been to Disney World before or if you are an adult who is a Disney fanatic like me, the pandemic offered short lines, ability to ride attractions multiple times and there was more space to navigate than there normally would be.
We hit up Animal Kingdom first and we were able to hit up the two major attractions a combined total of six times. Avatar Flight of Passage and Expedition Everest are those two big attractions and they did not disappoint. The Kilimanjaro Safari was another amazing experience, all the animals were awake and alert, we got to see a Lion up close who roared at the amusement of the passing safari, that mixed with the Giraffes, hyenas and various other jungle creatures was an absolute delight.
Overall, I would recommend Animal Kingdom to anyone who can't make it to all of the parks. I give this park a 4.7 / 5 – it's a must do for anybody visiting Disney.

My favorite park is hands down Hollywood Studios, you get the opportunity to navigate the old Hollywood Boulevard and work your way to Tower of Terror and Rock N' Roller Coaster. From there you need to spend a few hours in the Star Wars themed, Galaxy's Edge where you can ride the immersive Rise of the Resistance and pilot the Millennium Falcon on Smuggler's Run. For any fan of 90's Disney, Toy Story Land is a must-see they have three attractions there including Slinky Dog Dash which is an underrated roller coaster for people that need a thrill after hitting up the bigger thrills in the park. Overall, I give Hollywood Studios a 5 / 5 – it's as perfect as a park can be.


EPCOT is a must for the food lovers and people who need more of an educational and thought provoking day at the parks and Magic Kingdom is a classic, it's a must for the true lovers of Disney. I give EPCOT a 4.5 / 5 and Magic Kingdom a 4.2 / 5.

It's now time to gear up for part three, coming to a blog near you, sooner rather than later hopefully. Hear, hear to the ProcrastiNation!