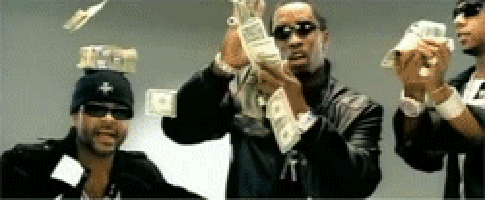 Scors is rich! That stimulus check was in my account this morning and as soon as it hit, I started spending that cash. Look, I know what all of you are probably thinking, that I should have prepared and saved some money away, well in a way, I did. I put a few hundred into my vacation fund, cause I am heading back to Disney next year for couples vacation round two. I also paid off a couple hundred dollars of heaping credit card debt, so save your judgement.

After that, I wandered the internet streets and wound up on Amazon, goodnight to my stimulus check. I made some moves, for my house and for my new addition to my man cave. When my wife and I bought our house, we had an extra room that I turned into my "man cave" and off of the man cave was an unfinished room, we are close to getting that room complete, so I started thinking what this room needed. I decided on giant movie posters and an air hockey table and there you have it, my stimulus riches have faded away.

I will tell you what, from 10:05 to 10:22 this morning, I felt like the richest man alive, money was no object, I was living the stimulus high life and now it is gone, I am back to being poor but now I have the luxury of playing air hockey all day while a giant poster of Al Pacino as Tony Montana looks upon me. That my friends is the gift that keeps on giving.

Getting this check got me thinking, I get paid now and all my money goes to bills, mortgage, grocery store and I don't appreciate what it's like to have some money to spend and how fortunate we are if we are able to have some money to spend. It brought me back to elementary school when my Mom would slip me five bucks and I would stroll into the cafeteria and buy fruit roll-ups for all my buddies, those were the days.

Thinking about my first job, when I didn't have bills and I would go to the movies and grab a sandwich and maybe if I was feeling crazy I would follow it up with a PlayStation game purchase, reckless spending like you read about.

So, when that check dropped today, I thought about putting every penny to my savings or a rainy day fund and then I decided that I should spend a little bit and try to smile during this bullshit time that we are dealing with. Is it the most sound and smart financial decision I have ever made, probably not but I hope that people who have the opportunity make a purchase with this check that will make them smile, everyone is dealing with this pandemic and crisis and obviously for the people who have lost their jobs than their money will need to be saved and used for other things but I am hopeful that they will be able to purchase something that takes some stress off their backs or this stimulus check was able to make them breath a little bit easier.

We gotta keep grinding, fighting and staying healthy but at the same time, we need to smile and try to enjoy life to the fullest, let us not take for granted the time we are allocated on this earth and if this asshole pandemic has taught us anything, we should appreciate each day and like the Tony Montana poster on my wall would say "everyday above ground is a good day".