I'm a simple man, I don't need much but when the powers that be begin to mess with my cookies than my anger knows no bounds. One of our finest cookie institutions has decided to take a big, hot, dump in our mouths and spit in our eye at the same time. Snack Well's, how dare you?

One of the greatest treats to ever grace the United States of America, the Devil's Food Cake Cookie was introduced the same year your favorite blogger was born, 1992. Since a young age I had devoured these scrumptious treats, you can eat them fresh out of the package, heat them up or chill them, all ways are accepted and delicious. The perfect amount of soft but textured, washed down with a cold glass of milk, that's what dreams are made of right there boys and girls.

Well, that deliciousness has been taken away, the Devil's Food Cake cookie recipe has been changed and with that, the quarantine has somehow gotten worse. I went to the grocery store, didn't exam the box and tossed the familiar treat into my cart, rushed home, ripped open the package, brought them over to the couch, my chonked – self plopped onto the couch, began to watch Cheers, bit into the cookie and…. IMPOSTER! This was a different cookie, not the one I had grown to know and love.

Apparently, Snack Well's have filled the Devil's Food Cake cookie with marshmallow, not just the normal amount, I am talking filled to capacity. The entire body of the cookie has been transformed and there is now a ridiculous giant hump on the cookie where the marshmallow reservoir now resides, the cookie's once beautiful exterior is now unrecognizable.

I just don't understand why we need to change things that work so well? For twenty five plus years I have eaten this cookie and now, all of a sudden I have been pissed on by those thieving rat bastards at Kraft Foods. Just for reference so you know how big of a travesty this is, here is what my beloved cookie used to look like: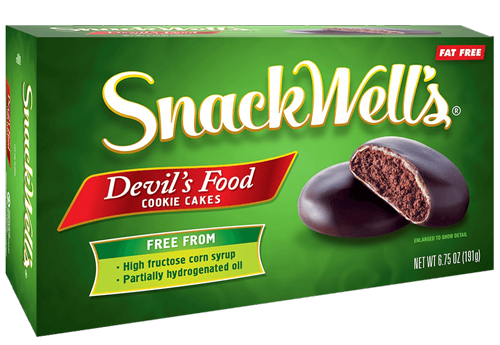 And now, we have this (please try not to vomit):
Well there you have it, now I know how Joey Gladstone felt when they took Vanilla Weasels off the market and he crawled on the ground licking up the remaining weasel crumbs. 90's Full House reference, please stay with me. I now will need to search far and wide to see if anyone has a stash of original recipe Snack Well's Devil's Food Cake Cookie that i can buy on the black market. This is my cross to bear apparently, please think of me in these trying times, if we lose the most delectable cookie known to man for some second-rate, flashy, stuffed imposter than I am not sure we have much more hope to look forward to in our cookie aisles.