I've been meaning to address the topic of "Old Man Coaches", no better time to discuss that than right now. Tonight, Duke will square off against UNC in one of the greatest rivalries in all of sports. I'll tell ya what, these old coaches can be electric at times and it's not just these two, we see it throughout sports. For example, earlier this month, Super Bowl Champion Andy Reid said having grandkids keeps him "old and young". He went on to compare them to sweet and sour pork, spot on Mr. Reid, I commend you my friend. I consider myself an old man at heart, so I completely understand the analogy. Who hasn't scarfed down a batch of sweet and sour pork, delicious, but then like 20-25 minutes later your stomach starts to sound like an engine on an 87 Pinto and you begin to flirt with the line of bathroom trip or an ol' mess in your sweat pants. A young man cannot come up with that analogy and if they did, it would seem forced, fabricated, Andy Reid speaks to the hearts of all old men who have a love hate relationship with nearly everything in their lives, he also speaks to all of us who were born in the wrong generation, the group of people like me who live and breath through pessimism.

Coach Roy Williams also has been hammering home the old man mantra this season. During a press conference he had to take a break to unwrap a Werther's Original and doing so, he struggled to open the wrapper for what felt like an eternity. We have all seen our grandpa reclined in his Lazy Boy, struggling to the bitter death with a candy wrapper, you want to rip it out of his hand, open it, remove the dentures and shove that succulent goodness in that old mouth. That would emasculate the poor guy, so none of us have ever done that and if you have, you are an absolute savage. Williams continued to be a highlight reel of old man quotes when he was discussing his struggling Tar Heel team. He literally said that he "might be dead before they ever get good again". Woah, that's a lot to handle, especially for an 18-22 year old kid who is trying to win a couple basketball games and earn an education. They probably had a players only meeting and were like, look guys we need to start winning games or this old lovable grandpa figure who coaches us is going to pass out on the sidelines if we don't win a game or two soon.

Speaking of passing out… (inserts favorite GIF of all time)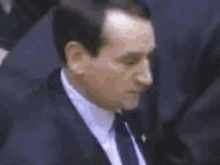 Coach K has been pulling out the old man book of tricks for decades. Oh, Duke has a bad team, Coach K will fake a season ending back injury quicker than a rabbit scampers across a prairie field. Coach K also has mastered the ultimate old man move by blaming the referees for every loss or my favorite, which came this year after a home loss to unranked, mid-major, Stephen F. Austin Lumberjacks. Most people would give credit to a coach and team who came onto Coach K court and beat you, but not our guy Coach K, oh no sir, not a chance. Coach K went home, struggled with a Werther's Original, threw on some Christian Laettner highlights and pondered how to spin this loss. AH-HA! He returned to the podium for a press conference later that week and without nudging, brought up the Stephen F. Austin loss and made it abundantly clear that he was dealing with a little bit of a sickness and that's why is team lost. The coaching equivalent of my dog ate my homework excuse. You probably thought I forgot about Coach K going full on no hemorrhoid cream Grandpa mode on the Cameron Crazies, no chance I forgot that. He was upset for the Crazies being "too harsh" on former Assistant now Pittsburgh Head Coach Jeff Capel when he brought his team into Cameron Indoor. Mikey started hollering at the student section and informed them that Duke is a family and we don't chant (although they chant some goofy, nerdy saying at EVERY opposing coach) at our former guys, once a Dukie always a Dukie. Honestly, they can't get Capel mad at them, they don't need Capel, the guy who illegally paid players to come to Duke for generations finally throw Coach K under the bus and bring the regime to a halt, reminding any credible historian of the fall of the Roman Empire.

With this huge rivalry game coming up tonight, I think it will be a tremendous success if nobody chokes on a hard candy, yells at some cheering kids, or eats a halftime meal of sweet and sour pork and shits their pants. If we can avoid all of that then this will be a huge win for both teams in my eyes.