Well, well, well, here we are again, for the second time in a week we plunge deep into the depths of drama and brainless television. I can't get enough of it! Thank the good lord that this is only a two hour episode because I did not have another three hour marathon in me. So let's get to it, Episode VI is here:

We arrive in Chile and Peter welcomes us in Spanish and right away he informs us that the stitches have come out, whew, that's a relief, our long national nightmare is over. Meanwhile, the ladies share a toast at a cafe in Chile and attempt to all agree to put their problems behind them and move on. Before they could do that and take a mature step forward, Mykenna springs into another bullshit soliloquy and begins to cry and from there Mykenna begins to lash out at the people for calling her out for weeping uncontrollably non-stop. Peter arrives and joins in on the toast, playing through the pain and bandage still on his forehead, not all heroes wear capes. Peter invites Hannah Ann on a date and the look on Mykenna's face brings a smile to this bloggers face.

Hannah Ann and Peter share a dance in the middle of town, naturally, that's what everyone wants on a first date, I want to throw up. Peter loves her goofiness especially when they shove hot dogs in each others face and smearing the condiments and fixings all over each other's faces, classic.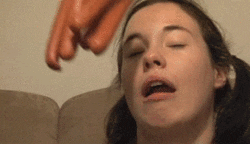 Hannah Ann tells Peter she has never been in love and Peter expresses some feelings of trepidation about this. I will be honest, listening to Peter continually say he needs to "find his person" or some other awful cliche phrase is starting to become annoying beyond belief. You all should be sending me thank you notes for making this season of this dumpster fire show somewhat enjoyable. Between the non stop crying over the same two issues for six episodes and Peter not being able to make a firm decision like a grown adult, this has been rough, but I am pushing through, giving back to you, the people.
On their dinner date (where the food never gets touched) we hear Hannah Ann bombard us with more cliches relating to the shallow waters of life, where you will never find challenges, BLAH BLAH BLAH. Peter is not satisfied with Hannah's lack of experience with never having been in love, he appears to glaze over the fact that Hannah just said her biggest ambition in life is to model and compete in pageants and then provides the patented, rehearsed speech when Pete asks her why she is here and if she is "ready for love". While Peter considers sending Hannah home, she fakes some tears, pretends to get emotional and Peter falls for it completely. Well if the modeling/pageant career doesn't work out I can see some supporting roles in B-list Lifetime movies for our dear Hannah Ann. Peter runs back to the house to retrieve that rose faster than I run to the Krispy Kreme when the hot donut light comes on. Peter is proving to be more and more of a SUCKER each and every week. Mark my words, the longer Peter keeps Hannah around, the closer we become to an impending explosive disaster.
Back at the house two date cards arrive, one is for the group date and the other is for Victoria F to go on her second one-on-one with Peter. This is too much for Mykenna to handle, she starts hysterically crying and says she is considering leaving the quest for Peter's heart, you and I both know that she is not leaving this show under her own power, better chance of hell freezing over, she is only going home when Peter tells her he has no interest in her. Even then, she might pop out of a closest wielding her possessed tongue and hysterically crying in-between Shakespeare level monologues, that are all filled with complete bullshit. Reminder that Mykenna is a 22 year old "fashion blogger".
Eight ladies head out for the group date and arrive to meet Peter at a Spanish speaking television set that is filming a soap opera. All the girls are assigned parts for the television show and Mykenna is upset that she has been cast as the made, she says it is the perfect part for her because the maid, like her, is not noticed by the main character. Someone give me a barf bag. At least we had some bright spots on this group date, Kelly was very funny, Kelsey seemed to take the date seriously and shared a very passionate kiss with him. At the end of the soap opera it is scripted that Peter falls in love with…. the maid. Mykenna gets the kiss with Peter that she has been crying about for weeks.
The group date continues with the cocktail hour, giving all the ladies the opportunity to connect with Peter and let him know where they stand with him, we are getting down to the nitty gritty of this competition. Peter takes Kelsey for some alone time first and he gives her the clarity that she needs, Peter informs her that he is feeling strongly about their relationship. Victoria P. and Peter share a conversation about her character being called into question during the prolonged Alayah incident, Peter informs her that he feels a drop off from their once strong relationship. Victoria says she wants to fight for Peter, Peter cuts her off and tells her that he notices her "heart is in the right place" but he is concerned that he is not confident in this relationship. Peter says he doesn't think he can see her as his wife, Victoria's anger begins to emerge and she tells him that she is worried for him because of the girls he has chosen to keep around at this point. Victoria leaves the date and Peter chases after her saying that "she will make someone so happy one day" classic line Petey. Just like that, Victoria P. is gone, another one bites the dusts on Pilot Pete's journey for love.
Madison and Peter have a strong connection and that is being showcased more and more often. She seems down to earth and she is on my leaderboard. Tammy who is one of my least favorite contestants ever on this show begins to call out Mykenna for being immature and we have a Tammy and Mykenna stand-off here. Kelsey tries to stand up for Mykenna and Tammy goes after Kelsey as well. As much as I have bashed Mykenna throughout this season, she is head and shoulders above Tammy, I can't stand Tammy and if Peter is going to make one smart decision this season, it would be to send Tammy home now. It is clear that between Tammy and Mykenna that two is a crowd and one has to go home immediately. Peter avoids the drama and just says it is time to end the group date, before he does, Madison is given the rose and the affirmation of that relationship is a reality.
The second one-on-one with Victoria F and Peter is upon us. They are on a horse farm in a rural part of Chile, absolutely gorgeous location, now this is a good date, romance is in the air. Peter makes it known that there is a lot of passion between them and he believes that this could become a serious relationship, as he put it, a future Mrs. Weber, strong words there bub. Victoria expresses some concerns that she is facing with the craziness of the competition and she is having trouble focusing on their relationship because she is surrounded by 9 other girls who are trying to woo her man away from her. Peter is shocked by this news but if they can work through it, it is a good sign for Victoria who is showing she can be real and honest.
Victoria is spiraling out of control and she gets up and leaves the date to hide in the bathroom where she contemplates leaving the show and begins sobbing to producers. Peter also chats with producers about how he is trying to get her to open up but he doesn't think that she is here "for the right reasons".

Listen folks, I am trying here, this episode is barely keeping me awake, it's brutal, the season is below average and frankly I think Peter might be too much of a softy for this type of grueling dating life. Thank the heavens we only have forty-five minutes left of this episode, hopefully we get some fireworks to close it out. She finally emerges from the toilet and apologizes for her questioning her feelings. Peter is really into her because he is practically begging for her to stay and keep fighting for their relationship, he offers her a rose and Victoria accepts. They share a kiss and the confusion continues to build for Pilot Pete.

Another date card and arrives and we have ourselves a two-on one date, peter says in the card that "enough is enough" Tammy and Mykenna will go into a pre cocktail party date for a two on one, either one or both ladies will be sent home. Oh baby, that's the spark we needed with a half hour remaining. Just when I wanted to root for Mykenna on this date she fakes some tears and claims "you have made me find my voice Tammy and love will win, kindness will win" this girl is unbearable and as awful as Tammy is, I think there is a real chance that Mykenna is either deranged or here for publicity.

Tammy claims that Mykenna is here only to build her brand and promote her blog and the big news is that she packed her bags before the last group date and was apparently close to leaving. Peter is not thrilled with this news. Tammy makes one final push to tell Peter she is falling for him, a strong performance from Tammy to keep herself in this "competition".

Mykenna now has to step up to the plate and answer the claims of "packing the bags" and considering leaving and wanting to promote her brand. Mykenna works up some fake tears and says she is "speaking her truth" and she needs a chance to show Peter that she is falling in love with him. It is time for a big decision from Peter and …. Mykenna is staying. SEE YA TAMMY, great move by Peter, best decision he has made so far this season, with saying that, Mykenna is a freak show, there's no doubt about that but she is the lesser of two evils in this situation.
Let's head to the rose ceremony: Victoria, Madison and Hannah Ann already have received roses. The first rose goes to, Kelsey. After Kelsey, Natasha receives her rose and the final rose of the night goes to …. Kelly. Goodbye Mykenna and Sydney. I agree completely with Peter here, great job by him, for the first time this season, I agree 100% with Pete's rose ceremony selections. We have six remaining ladies competing for Pilot Pete's heart. Five hours of the Bachelor in three days, i'm going on vacation, I need a break from Pilot Pet's quest for love. This is way too emotional, I feel for Peter having to choose between all these gorgeous girls and having to date them all, must be so so so difficult for him, I don't know how he does it. Let's head to Peru with Peter and the remaining six ladies.