Cal Ripken Jr, other wise known as baseball's "Iron Man" set the record for consecutive games played with 2,632. The streak started on May 30th 1982 and lasted until September 19th 1998. There has been a conspiracy that has floated around the internet and baseball circles for years regarding Ripken's streak. The conspiracy theory suggests that Ripken's streak was in jeopardy of ending on August 14th 1997 but the Orioles officials assisted in making sure that the streak would live. This theory is bizarrely entertaining but I will inform you that it has been denied by Ripken and the other major players supposedly involved and a report was conducted by Snopes.com on June 21st 2001 and they believe they have debunked this fascinating tale. I will let you make your own determinations. This story starts way back in 1990 at a film screening of "Dances With Wolves".

"Dances With Wolves" was a 1990 major motion picture that starred and was directed by Kevin Costner. The film was nominated for 12 Academy Awards and won 7, including best picture and best director for Costner. At the premiere of the film Costner met Orioles super-star Cal Ripken Jr. and the two began a friendship bonding over their love of baseball. Costner starred in baseball classics such as "Bull Durham" and "Field of Dreams". The unique thing about Costner was that he actually could hold his own on the baseball diamond and did all his own stunts/baseball actions during those films.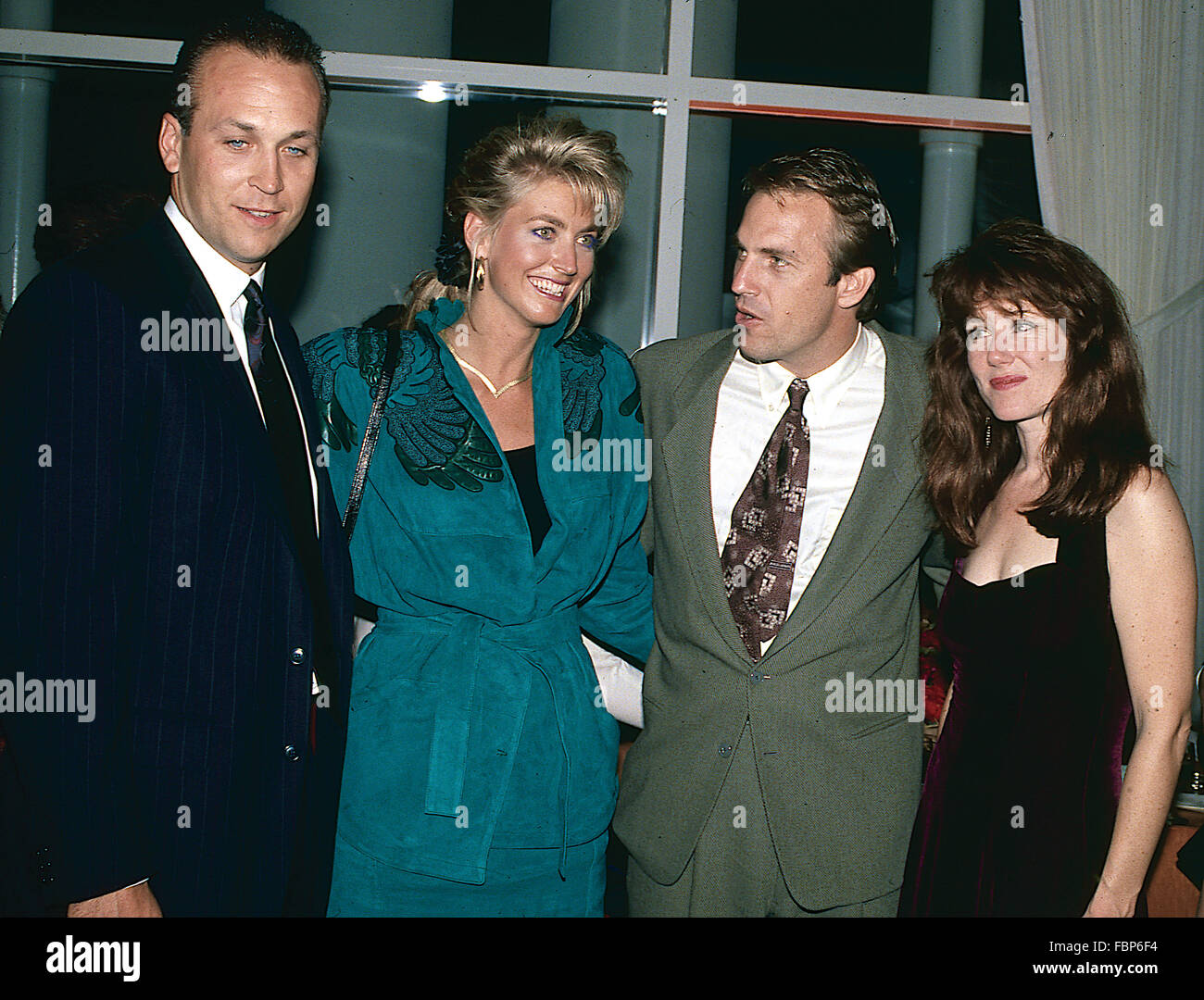 The two guys continued the friendship and hung out together throughout the off-season and in 1991 Costner joined the Orioles on the field prior to a game and took batting and fielding practice, stretched with Cal and his teammates and on multiple occasions would be in the stands with Cal's wife Kelly watching the games.
Let's fast forward to August 14th 1997. Costner was in the Baltimore area and was finishing up shooting the film "The Postman", Costner directed and starred in that movie as well. Because Costner was filming in the area, it was rumored that Ripken Jr. allowed Costner to stay at his home until shooting had wrapped. On that particular evening, the Orioles were scheduled to take on superstar Randy Johnson and the Seattle Mariners. Unfortunately, the lights in Camden Yards were not responding and the game began to get delayed before it began, the hotels and restaurant lighting was perfectly fine but research has been conducted that says there are two separate grids for the stadium and the hotels/businesses.

Around 8:45pm the majority of the lights were up and operational and discussions began to take place between the teams and the umpiring crew if there was sufficient lighting to proceed with the game. Various bulbs continue to flicker on and off and at approximately 10PM the chief umpire on location postponed the game until the following day, the Orioles and Mariners would play a doubleheader.

Nothing too crazy about that story, just some faulty wiring and lighting, right? Well, this is where the conspiracy theory comes into play, this theory was so widespread that both Ripken and Costner, on prominent radio programs spoke out against it and denied the claim.

Allow me to rewind, earlier in the day on August 14th, Ripken Jr. was preparing to leave for the ballpark. Ripken got into his car and began to head to Camden Yards for batting practice and to prepare to face Randy Johnson. After he left the house, Ripken realized he had forgotten something at the house and he turned around and headed back home. When he returned home, he found Costner and his wife, Kelly in bed together. Ripken then proceeded to punch Costner in the face and leave him in visibly bad shape. This aspect of the rumor/conspiracy had legs because apparently Costner stopped doing publicity events for "The Postman".
Imagine that, forgetting your cleats and returning home to find Bull Durham himself showing your wife his Untouchable, while an ultimate Waterworld takes place in the bed. I bet Costner wishes he would have had a Bodyguard in that situation. There hasn't been a celebrity man whore like that since J.F.K. I mean, talk about the Postman always ringing twice. Sometimes a situation like this is Black and White but this is no way to treat Ripken who is the ultimate Company Man and baseball's own Man of Steel. I'm sure when Costner laid eyes on Ripken he realized there was No Way Out and The War had begun and obviously, In A Perfect World, none of this would have ever happened. Ripken was probably beating Costner with whatever he could get his hands on, a lamp, a book, a Tin Cup, anything he could find in that bedroom. Ripken was a ballplayer, he did it for The Love Of The Game, he didn't play one, two, three, or Thirteen Days in a row, he did it for thousands of days in a row and he couldn't bring himself to play that night. Rumor Has It that Ripken hadn't been that on edge since his own Draft Day.
Okay, so I don't normally pat myself on the back but if we could just take a minute and appreciate just how many Costner movies I included in that sexed up/baseball version of mad libs. That might be my Mona Lisa. Just to clarify for all you dolts out there, the bolded words are all Costner movies.

After Ripken Jr. allegedly laid down the beating, he phoned the Orioles management and told them the story and said he was too emotionally enraged to make it to the ballpark and play that night. It was also rumored that Ripken was physically in bad shape from rumbling with Costner. On the phone call Orioles management reminded Ripken Jr. of his streak and that it would be broken if he didn't show up at some point during the game and make an appearance. Ripken told them he didn't care and would not be coming to the ballpark, instead of accepting that answer, Orioles management informed Ripken that it would be taken care of and a solution was in place. Side note – an amazing aspect of Ripken's consecutive games streak is that he started every game he appeared in, he didn't pinch hit or come in for a defensive substitution, he started and played the majority of the innings in all 2,632 games.

Back to the conspiracy. After Ripken and Orioles management hung up the phone, the plan was put in place. An electrical disturbance would force the game to be postponed and Ripken's streak would remain in tact.

The following day, Ripken showed up to the ballpark and appeared in both games. The streak continued.

As I mentioned earlier, Ripken denied these outrageous claims on NPR and Costner did the same on Fox Sports radio. In addition there have been reports that Ripken appeared in uniform, at the ballpark and on the field prior to the game being suspended. Ripken suggested that there was TV footage of him sitting in the dugout as well. Here is Ripken's quote:

"It's easy to check the facts of that one. I remember it very well. The bank of lights went off and Randy Johnson was pitching for the Seattle Mariners. And we were deciding what to do about that. Was there enough visible light out there to actually see a guy throwing over 100 miles per hour? The bank was just over our dugout. And I physically went out and tested it for the umpire. I was in discussion with the umpires. I was definitely there, I was ready to play. And the funny part about it was we all decided it was better that we play that night, because the next day would have been a Sunday day game, and Randy Johnson would have been throwing out of the stands, and in day games he's much harder to see. So we all decided that we were going to go. Evidently [Mariners manager] Lou Piniella told Seattle a little different story that the game wasn't going to go, and they started leaving the ballpark, so we didn't have that option after all. We scheduled it for the next day, and we played. But I definitely was there. And I'm sure I was on camera a number of times being out on the field".

Costner mentioned that he only met Ripken's wife twice for a few minutes, we know this to be false because they sat with each other at multiple Orioles games but perhaps he was emphasizing his point to their lack of familiarity with each other. Ripken and his wife Kelly divorced in 2016. Regardless, this is a wild tale, that for what it's worth is hugely entertaining. You can read the full debunking of this conspiracy theory at https://www.snopes.com/fact-check/the-costner-of-love/
Shoutout to them for being the primary source for this blog.

I hope you enjoyed volume II of our sports conspiracy series, there will be more to come, until then, get your tin foil hats out of the closet sports fans and let me know if there is a certain sports conspiracy theory that you want discussed on the blog!