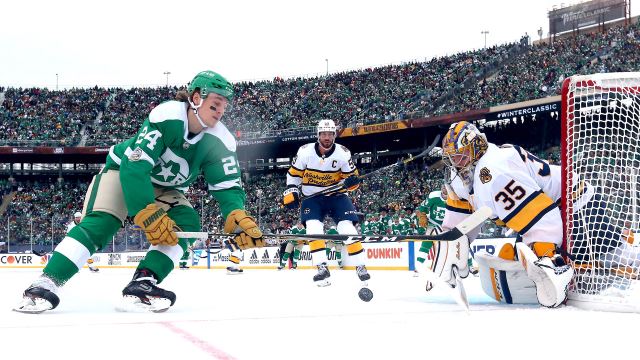 Anyone who knows sports knows the Winter Classic on New Years Day is without a doubt the biggest sporting event on the globe. An incredible day to watch some historically great hockey while recovering from your New Years' Eve hangover and enjoying a day off from your job. What should have been a footnote to Alabama's unsurprising Citrus Bowl blowout over the Wolverines, the Classic ended up being the biggest game on TV that day. Yet despite tradition on Wednesday afternoon, we had an unfamiliar "Winter" Classic at an even more unfamiliar location between the Stars and the Preds at Cotton Bowl Stadium in Dallas.
Now I know what you're thinking. This isn't what the Winter Classic is about -and I 100% agree. Any hockey fan knows this special day is built around at least one (preferably two) original six teams, a stadium covered in snow, and retro unis (which I don't particularly care for and honestly confuses the hell out of me while I'm still half-drunk on my couch and recovering from the night before -but I've become accustomed to it). I envision Michigan Stadium on a blustery winter afternoon and barely being able to see the players because of the snowfall. Even the Rangers 2018 OT win over the Sabres at Citi Field met that standard (a game I drove roughly 90 mph on the Mass Pike to get home from Boston to watch after another disappointing New Year's Eve).
So naturally, with two western conference teams playing outdoors in Texas -I hadn't exactly circled this one on my calendar. However, being the open-minded and forward-thinking hockey fan that I am, I flipped between two channels bravely stuck it out and ended up being pleasantly surprised with what both teams had to offer.
But don't get me wrong. This was a heinous choice by the NHL and carried out by an awful network (NBC Sports) who I pray does not get the opportunity to extend their contract covering the NHL. Stick to your Notre Dame pageantry and leave primetime to the big guys. And I get it, expansion and commercialization, blah blah blah, but please, for the sake of NHL fans humanity -please stop.
Now sparing everyone an in-depth analysis of two teams most of us could live without hearing about 4 days after the fact, I think one noteworthy part of the game was Corey Perry of the Dallas Stars dropping a right elbow that practically tore off the head of Nashville Predators Ryan Ellis. The hit gave Ellis a concussion and got Perry ejected and a cool 5 game suspension from the League.
According to the Yahoo Sports, "This is Perry's third suspension from the NHL. He was first given a four-game ban in 2009 after elbowing Philadelphia Flyers forward Claude Giroux, and again received the same punishment in 2013 after an illegal check on Minnesota's Jason Zucker."
A nasty little hit from who else but Corey Perry, but hopefully Ellis recovers quickly. What was actually funny was watching Perry leave the rink after getting tossed and having to walk a 55-yard gauntlet from the box to the locker room all while being showered in boos. What a sight.